elif erkan
Press Release:


All my endeavors are honest
Even in recollection of the past
And looking into the future I see dust
You will see all my past mistakes here
Don't worry, I won't be lecturing you
I don't want to warn you
As you, I was once dust
And you ate food, trusted the stars your feet buried in soil
Just like me
And now here we are
Reading the fragments of our glorious battles reminiscing past times
Now you start thinking back and you start to wish for a future
And yet again there is dust
We have spent so much time thinking about standards
Speculating, thinking of future providences... but you tell me: Will all these layers of quantifying a standard help us be remembered? Bet better than past generations?
I am 34, female
I have no children."
E.E.

The gallery is pleased to announce Elif Erkan's first solo show in Turkey.
Where You They Form is a site-specific installation commissioned for T H E P I L L ® in which speculations on origins, territoriality and theromanticism of progress are approached
in menhir-like sculptures that usher the viewer through the gallery.
Fragments of the artist's body casted in tin lay embedded on the ground. The artists body turnes into a reflective point of origin speculating on the existing relationship between the artist's body and the sculptural productions itself. Furthermore, the body is treated like an archeological relict which turns the exhibition into a burial site.

Press Release The Pill, February 2020. Poem by Elif Erkan.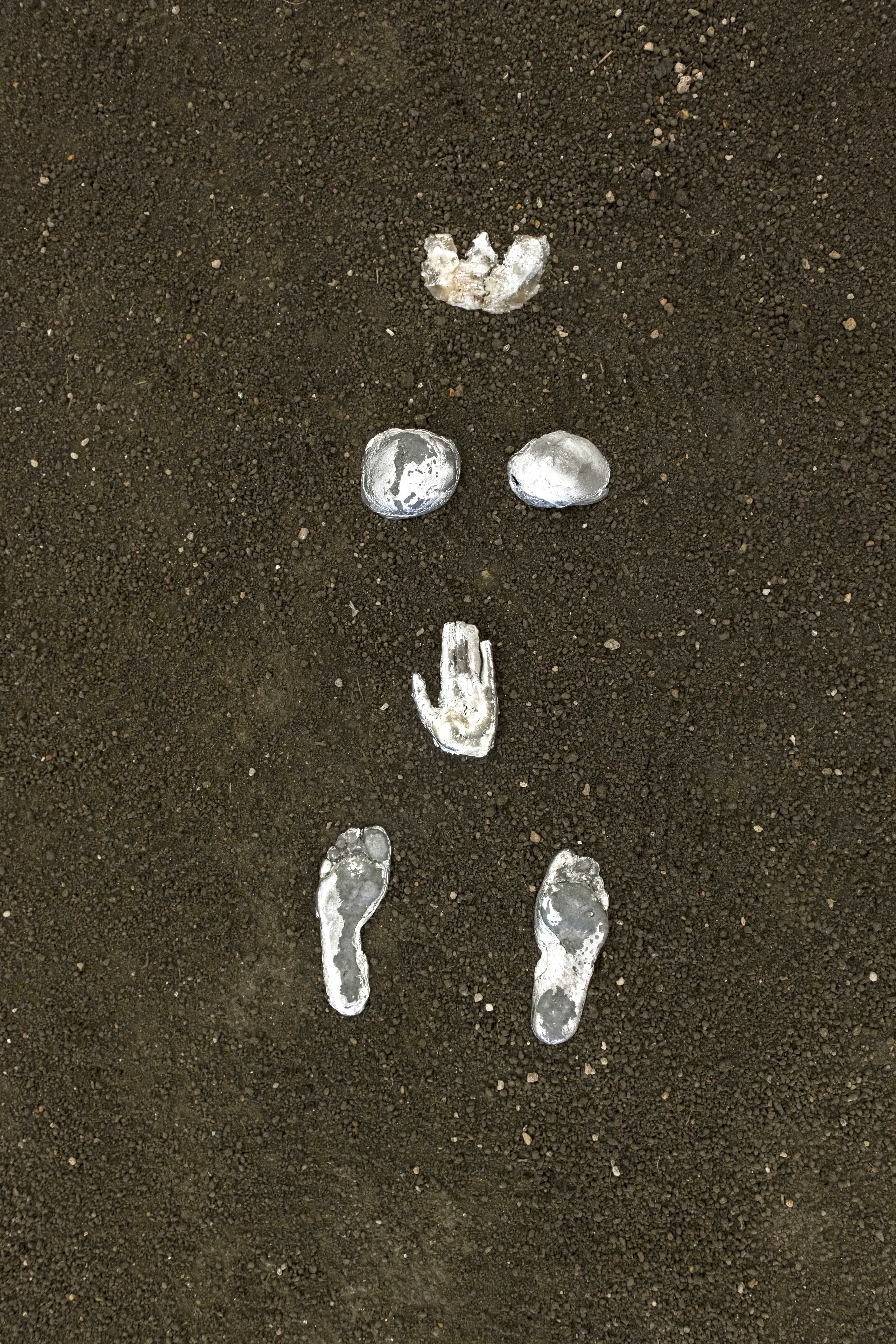 Courtesy of The Pill and Elif Erkan. Photography Kayahan Kaygusuz.






Press Release:


In Elif Erkan's (* 1985) sculptures the precise examination of the material and the act of production are always in evidence.

The solo exhibition at Weiss Berlin will feature her latest group of works, in which the artist is working with felt and metal. The "felt paintings" are touching upon problems of modern life and constant self-optimization. "Does Success Love Me?", for example, shows a calculation of the numeric value of the letters of the sentence "Success Loves Me" with crossed out numbers. The result is the answer to the question the title begs: 95% – in red felt. Erkan reverses the neoliberal demand to love success by making it the subject and the person who pursuits it the object.

The felt works are complemented by tin sculptures. Their production refers to a Turkish tradition that is supposed to banish evil spirits and purify the individual's energy: melted tin is poured into a bowl that is filled with cold water and held over the person's head. The shape that the material has assumed is discussed and analyzed afterwards. On the opening night, there will be a performance referencing this practice.

Courtesy of Weiss Berlin and Elif Erkan. Photography Gunter Lepkowski.